---
2020 Apex SC Series Single Arm Full Servo Robot - SC 2500D (New)
Apex SC 2500D
Age: 2020
Stock Number: 3559
---
Refurbished - new pendant -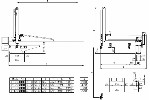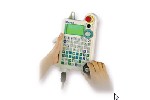 Click to view larger photo


---
| Specification | Description |
| --- | --- |
| Product Arm Strokes |   |
| Vertical Arm Stroke (AC Servo) | 98.42" (2500 mm) |
| Strip Stroke (AC Servo) | 61.02" (1550 MM) |
| Traverse Stroke (AC Servo) | 196.84" (5000 mm) |
| Payload | 110 lbs |
| Suitable machine size | 1500 - 2500 |
| Voltage | 200V AC Single Phase |
| Shipping Dimensions | To advise |

Equipped With:
Standard 14 spare inputs and 12 spare outputs for interfacing with other ancillary equipment. Extension up to 30 I/O also available. .

1. Parts removal :

a) 3 Axis synchronised movements reduce complexity and cost to build end-arm-tooling.
b) Able to reach parts with hooks and undercuts using unconventional paths such as curves, etc.

2. Stack and array:

Each cycle can handle up to 9 stack areas with individual stack formats. Can also place parts onto 100 points on the same surface.

3. Insert and grid:

Each cycle can place 9 different insertion materials into the mould, fed from a single point, grid pallet, or multi-station.

4.Inspection :

a) Reject program: Detects signal from the moulding machine and places part in different area.
b) Inspection program: Places part in different area for QC inspection, for example every 100 cycles.
c) Test-Mold program: Allows checking of parts at the beginning of each automatic moulding cycle before cycle counter starts.
d) Weight program: Checks part quality from electronic weight scale and separates defect parts.
e) Cycle counter: Counts the total number of moulding cycles. Inspection cycle and defect parts are not included in count total.











25422 Trabuco Road, Ste 105 - 531
Lake Forest, CA 92630-2796
Phone: 949-756-8387
Fax: 949-263-1087
sales@pmexchange.com

Asset Sales and Marketing Software for Used and Surplus Industrial Machinery and Equipment Dealers
www.MacDB2000.com